Collaborative Projects
20 Collaborations in Book Art was a project developed and spearheaded by Nashville-based artist and bookbinder Britt Stadig. Over the course of six years (2013-2018), Britt worked with artists whom she personally selected to create one-of-a-kind artist books for three different exhibitions at the Nashville Main Public Library Gallery. Stadig said, "The intention of the project was to bring book art to a wider audience and to demonstrate the creative potential within all artists to utilize the book form." Since most of the artists who participated were not book artists, Stadig worked with each one to help visualize and create a version of their personal artwork in book form. The only "rule" of participation was that some level of collaboration was mandatory, a parameter which helped push artists outside of their comfort zones -- and ultimately sparked some exceptionally creative and unexpected results.


20 Collaborations in Book Art I: 2014
For the first exhibition, Rachel and Britt collaborated on the book Vespula. Rachel created 18 drawings that show the systematic visual destruction and creation of a yellow jacket wasp (vespula germanica). One side of the book shows a progression of imagery from realism to total abstraction in sequential steps, and the other side begins with total abstraction that gradually develops into a realistic image. This visual cycle is on loop, an infinite process of breaking down and building up, just like the cycles of life and death and construction and destruction that guide the natural world.



20 Collaborations in Book Art III: 2018
Rachel was invited back to participate in the third and final 20 Collaborations exhibit. Because she had moved from Tennessee to Washington State and wasn't able to easily collaborate with Britt, Rachel collaborated with fellow Central Washington University faculty member and sculptor Howard Barlow. Rachel's concept for this artist book was to create an autobiography that visually and symbolically represents both the book as object and the human body. She enlisted Howard's help in learning how to use sculpting methods and equipment to create a wooden spine and the pages of the sculptural book, which are grouped in vertebrae "chapters". Each of the thirty-nine pages illustrates a specific memory or experience from Rachel's life. The pages were custom-made via laser cutter (with more collaborative assistance from CWU art and design technician Jeff Cleveland). Each one swivels out from the spine to reveal an abstract drawing on acetate. The drawings are illuminated from below, and the act of looking down to examine each image is meant to give the viewer the sensation that they are looking at a microscope slide. In essence, the viewers are looking at Rachel's life under a microscope.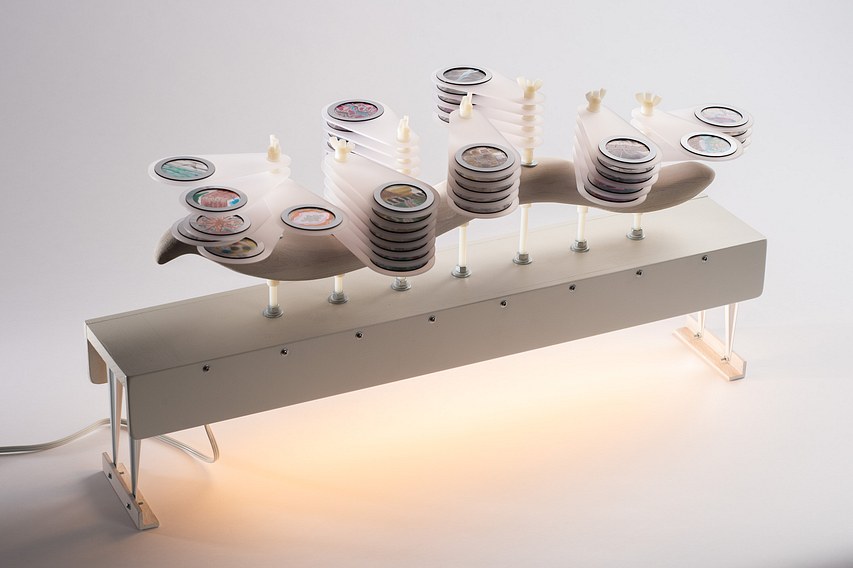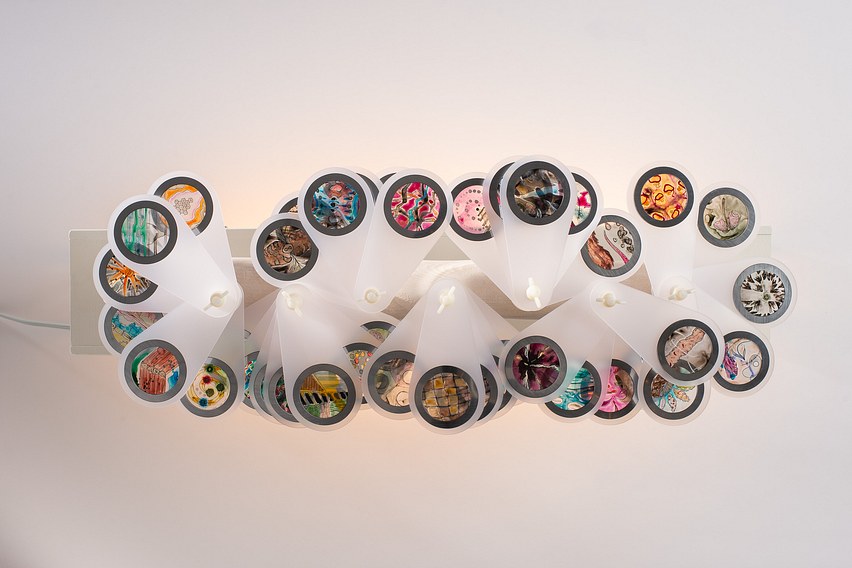 Photos courtesy of Mark Mosrie.